AVO SEASONS 2023 – LIMITED RELEASE
Avo Seasons are an experiment of senses and emotions. Four unique cigars capture the spirit of each season that transports you to a nostalgic feeling one has in that perfect, seasonal moment.
This special release has been carefully created by our master blenders who have worked with tobaccos across multi-faceted origins to craft the perfect seasonal blends. Tobaccos from each cigar can be found in diverse growing regions such as Ecuador and the Dominican Republic, with tobacco aged up to 14 years.
We encourage you to enjoy each cigar while experiencing a moment unique to each season: walking through a garden in spring, watching the setting sun on a summer evening, feeling the air turn crisp as autumn leaves fall, and sitting by a crackling fire in winter.
Join this journey with us as we begin in spring, calling to mind the rebirth of our natural surroundings. As the seasons change, so come changing senses, bringing back old memories, and creating new ones that we will call upon again and again. Each blend is limited to 1,500 boxes produced for the United States.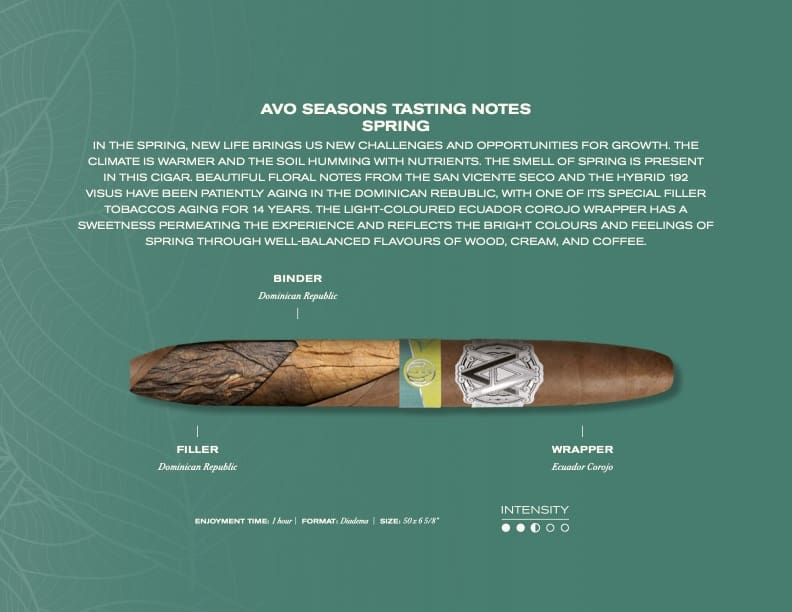 Strength: Medium Bodied
Country: Dominican Republic
Binder: Dominican Republic
Filler: Dominican Republic
Wrapper Leaf: Ecuador Corojo
Box Count: 10
*This item is a Pre-Order product. Expected arrival on March 23rd. If other items are purchased together they will ship when pre-ordered items are available. We suggest you purchase pre-order items and regular in-stock products separately.