The PUNCH BRACELET® by LES FINES LAMES is the first fashionable cigar accessory many were waiting for. The only cigar accessory that will blend seamlessly into your life.
The one you will instantly find when you need it, and that is a fashionable bracelet the rest of the time.
KEY FEATURES
– It's an elegant bracelet and fashion accessory
– It also conceals a 316L surgical steel 7mm cigar punch with an LFL signature sharp blade – Always at hand
– You won't forget it on the table
– Made in France
– The only cigar accessory you can swim with and seamlessly go through security checks
8 STONES
8 different types of semi-precious gemstones are available to choose from
– a PUNCH BRACELET of your choice 10mm beads bracelet
– a Tiger Eye 10mm beads bracelet
– an Onyx 8mm bracelet
STAINLESS STEEL & BRASS
The cigar punch concealed in the bracelet is available in stainless steel and brass depending on the stones choose
The PUNCH BRACELET will be available for wrist sizes from 15cm to 21cm (5.9 inches to 8.3 inches). We recommend downloading and using our printable wrist sizer to precisely measure your wrist: download link.
As we want every bracelet to perfectly match your wrist size, please follow the below steps to measure your wrist size :
Please measure at the point just between your hand and the wrist bone.
Please measure in a tighter fit.
Please do not add any 'space' yourself to your wrist measurement.
Alternatively, you can also use a measuring tape or a piece of string.

The PUNCH BRACELET is available in 8 different kinds of 10mm beads.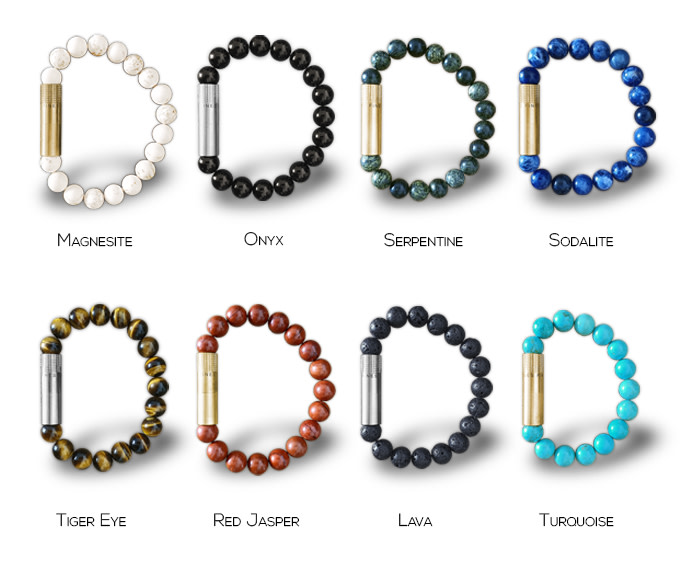 MAGNESITE – Master of thoughts
White magnesite is known for its calming properties. It helps to improve creative visualization and imagination. It makes thoughts clearer, more orderly, and more harmonious when worn as a bracelet.
ONYX, The spiritual shield
The Onyx gemstone helps to focus on the essentials: gaining confidence, facilitating communication and speech.⁠
SERPENTINE, The state rock of California
Wearing serpentine jewelry in contact with the body, such as a bracelet, allows the energy of the stone to help you turn negative thoughts and actions into positive ones.
SODALITE, The royal blue
Enhancing self-esteem, self-acceptance, and self-confidence, sodalite broadens the understanding of oneself and one's environment. Sodalite is mainly found in British Columbia.
TIGER EYE, The chatoyant gemstone
Silky and lustrous, Tiger Eye offers a level of grounding security that keeps you feeling safe and protected in all circumstances. Tiger's Eye is also a talisman of good luck and fortune.
RED JASPER, Bringer of success
Jewelry use of jaspers goes back into the early history of civilization. In ancient Egypt, red jasper stone was linked to the fertility of Mother Isis and Native Americans believed that red jasper was the blood of Mother Earth. A gemstone is known to sharpen the mind, give courage, and bring success and wealth.
LAVA, Filled with the energy of the Earth
Lava is a stone made from cooled magma. Carrier of joy and happiness used to soothe, it is a gemstone known to balance your mind.
TURQUOISE, The colorful
The word turquoise dates back to the 17th century and is derived from the French turquois which means "Turkish" because the mineral was first brought to Europe by Turkey. It adorns a beautiful cyanish-green color, based on the gem of the same name.
---

The PUNCH BRACELET is available with two types of connectors bodies, both with a 316L stainless steel blade. This probably also makes the PUNCH BRACELET the only cigar accessory you can swim with.

Brass body, the Patina King
Known since ancient times, brass is still used today for its properties in applications such as interior design, musical instruments, jewelry, and even ammunition casings.  It is a very durable copper alloy with exceptional corrosion resistance. Brass is prone to patina, a natural phenomenon that can be easily removed or cultivated for best results.
What is patina?⁠
It is simply a natural, superficial discoloration of a metal that lies on the surface as a kind of coating. A broad concept that can be described as a product that has "aged". A product that has improved over time, like some cigars for example.
Patina has many functions, like being a kind of "seal" on metal for example, but for us, the most important seems to be that it represents the relationship between the object and its owner.
The common history they will have written together, day after day, month after month, year after year. The patina is easily removed, but if you let it grow, the PUNCH BRACELET will have changes in color that will make it unique.
There lies all the beauty of the patina.⁠⁠

316L Stainless Steel body, the inalterable
Sometimes referred to as Marine Grade Stainless Steel, used in a variety of fields such as the petrochemical industry, water treatment, medical implants, or high-end diving watches, 316L is the superior choice for high corrosion and high-temperature applications.